I currently live on a farm in NW Illinois and dedicate a lot of time to trying to build biodiversity, particularly by fostering habitat for invertebrates. At the center of this effort is an 8-acre prairie installation begun in 2020. This page documents some of our progress.
in Spring 2020, I was one of the many professional moms for whom pandemic parenting destroyed the ability to do normal work. Global crises have a way of mucking things up. The thing is, climate change and mass extinction are going to muck things up a lot more than the coronavirus pandemic already has. And despite the overwhelming evidence that climate change is THE BIGGEST GLOBAL CRISIS IN HUMAN HISTORY, by Spring 2020 I had gotten frustrated by the inaction of educational institutions like my own, which MUST act substantively to reduce greenhouse gas production and to educate proactively for a future that differs substantially from the present. Given all this, Summer 2020 seemed like a good time to reorient. I wondered if hands-on conservation and cooperative labor arrangements could offer a meaningful way to merge work, childcare, education, and positive change. Pulling retirement funds out of the (icky, carbon-based) financial markets, we bought a 19-acre farm and homestead in NW Illinois, where we moved with two other families (initially) in a quarantine pod.
We chose this specific farm property largely because it had potential for immediate and important environmental restoration: it is adjacent to state-owned forest and it has an 8-acre field previously used for corn and soy production, ripe for conversion to prairie and savanna. Our field drains directly into a creek that supports bald eagles and other endangered species. Regionally, agricultural pesticides have severely suppressed pollinator populations. Our installation of prairie on the former crop field will provide supportive habitat to bees, butterflies, birds, and other animals, and will also help to protect water quality downstream. A mature prairie also sequesters carbon much more effectively than cropland. Supplementing our prairie project with upgrades in our homestead utilities and permaculture-style food production (mainly on the part of the property that was formerly lawn), we hope that our land management practices will translate to a substantially lower net carbon footprint for our family and the friends who stay with us.
Picture: view of the field from the South, in June of 2020 at the beginning of the soy growing season.
When we bought the property, the 8-acre field had been rented out to a farmer who had planted standard GMO soy beans. Because we have kids living on the property, the farmer kindly agreed to use minimal (but not zero) glyphosate treatment in the 2020 growing season. (As I'll explain later, this ended up being a mixed blessing, although it was well-intentioned.) Anyway, we couldn't do anything with the field ourselves until after the final harvest in October 2020. What we did during that time was reach out to local conservation organizations to learn as much as we could, as quickly as possible, about the pre-colonial ecosystem in this region and the steps that it will take to work towards restoration.
We had extremely helpful site visits from representatives of the Jo Daviess County Conservation Foundation (JDCF), and The Prairie Enthusiasts (TPE). In particular, the landowner services program with TPE gave us a powerful jump-start. After a socially-distanced site walkthrough during which he exhibited exhaustive knowledge of the botany of the region, Dr. Dan Carter of TPE gave us a customized write-up describing conservation priorities we could act upon immediately. He also gave us direct practical advice about how to do a prairie installation, and suggestions of additional resources. With additional tips from members of the local Northwestern Illinois Prairie Enthusiasts (NIPE), we placed seed orders from Prairie Moon, and bought organic rice hulls as a seed-mix filler. We picked a variety of seed mixtures partly based on the site conditions, partly based on our priority for fostering insect conservation, and partly constrained (of course) by our budget. Quality seeds are expensive! We also got a cheap broadcast spreader to attach to the back of our old gator, since 8 acres is a bit much to try to seed by hand (although it didn't work all that well, so quite a bit of hand-seeding actually happened in the end).
Picture: View of the field from the North, through some of the lawn decor we inherited from the past owners. The field is filled with soybeans.
In October 2020, the field was harvested for the last time, and then mowed by tractor. At that time, we finally had a chance to see what the conditions were going to be for our planting, and, honestly, the situation looked pretty bleak. Partly because of the lower-than-usual use of glyphosate on the field, most parts were completely covered in weedy debris. While a thicket of mulch/debris is not always terrible -- it can help prevent water run-off and protect new seedlings -- it wasn't a good situation for our initial seeding. We worried both that the debris would limit soil contact for our seeds and that the weed seed burden would be out of control. We decided to try burning off as much of the debris on the field as we could, which also would serve as our first bit of hands-on training for doing future controlled burns of the prairie, which will be an essential part of our routine in future years.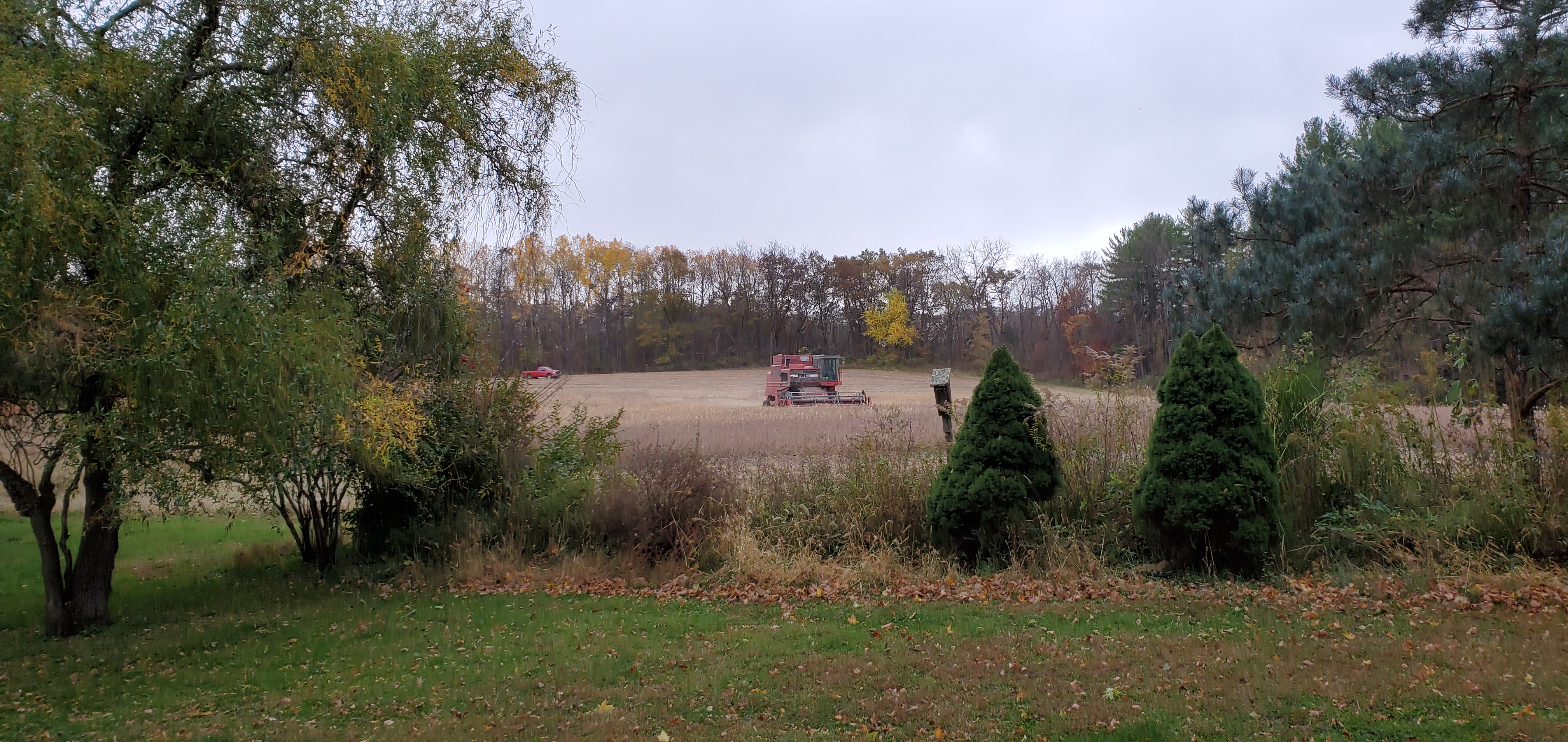 Picture: view of the field during its final harvest.
The burning took a long time and we made many rookie mistakes (thankfully, none of them with serious consequences), but we learned a ton from the challenge. The fuel density on the field was too low to sustain fire unless the weather conditions were particularly dry and windy, but in those conditions, it was nerve-wracking keeping the burn areas under control. In the wettest parts of the field we could only maintain the fire when we raked the debris into deliberate rows and piles, which was exhausting. We also put many hours of effort into hand-raking and pre-burning fire breaks, criss-crossing the field with future paths that we will mow and maintain in anticipation of future burns. Also, meanwhile, following the expert advice we had received, we began clearing the edge of the forest around the field, cutting out weedy invasive brush and removing low-value trees that were competing with our existing oak trees. Overall, the Fall was a time of intense physical labor, but also a time when a pair of bald eagles moved in to the canyon behind our property. Their noisy oversight of our progress was both entertaining and energizing. During a time when it felt like the whole world was falling apart, it helped our family and our friends to interact with these amazing birds, whose winter food source (fish in the neighboring canyon) our work will directly protect.
Picture: standing in the middle of the field during the burning of a strip later to be used as a fire break.
The ideal time to plant prairie seeds is in the Fall, near the time when plants would naturally mature and release their seeds. Many prairie seeds require several months of cold and wet conditions in order to germinate in the Spring. Because we spent so much time trying to burn weeds from our field, we were a bit late in planting, and did not seed the field until around the first week of December. However, we watched the weather carefully and picked two days right before the first major Winter snow, which then provided a protective blanket over the planting. Using a combination of broadcast seeding and hand-seeding, we planted the field in two days. While the soil was still warmm and soft, we also used a lawn roller to compress the soil, helping to ensure that the seeds would get good soil contact. We concentrated our most expensive, flower-focused seeds on the parts of the field with the fewest weeds. We used grass-based, cheaper mixes in the areas with a lot of weed competition. Time will tell if it works, and how hard it will be to fight invasives as the prairie becomes established. While we wait for Spring, we are studying the hundreds of species of plants that will hopefully grow soon. (The most invaluable resource for this is definitely: the Illinois Wildflowers webpage thank you so much Dr. John Hilty!).
Picture: seeds mixed with rice-hulls, ready to be spread over the field.
Picture: the day after we finished seeding. Snow!
Our property bears the mark of destructive land use practices since the dawn of the colonial era. Our former crop field testifies to this, with its problematic drainage, poor soil, chemical contamination, and lack of biodiversity... but the field is also surrounded by non-native pine-forest areas (planted perhaps 40 years ago), and a lawn lined with maples, ornamental trees, and ornamental garden plants that are in some cases creeping into the surrounding landscape. Between those intentional changes and the unintentional spread of invasive species such as bush honeysuckle, garlic mustard, and white mulberry, there is an enormous amount of competition for the native plant species we want to support. Our long-term project will focus on prairie establishment, but also will involve clearing the forested areas of brushy invasive plants and weedy trees. Throughout the prairie we will be planting (and, hopefully, protecting from deer) burr oak saplings. With effort and time and luck, this will let the property gradually transition to a version of the oak savanna ecosystem that would have predated major logging and agricultural development in this location. We are encouraged by existing signs of the ecological potential of this land: the few parts of our property that were never developed (mainly, the very steep slopes into the canyon) already support strikingly diverse botanical communities. Hopefully in the future, the whole 19 acres of our property will support that kind of biodiversity. Check back and I'll post updates! Or check in here